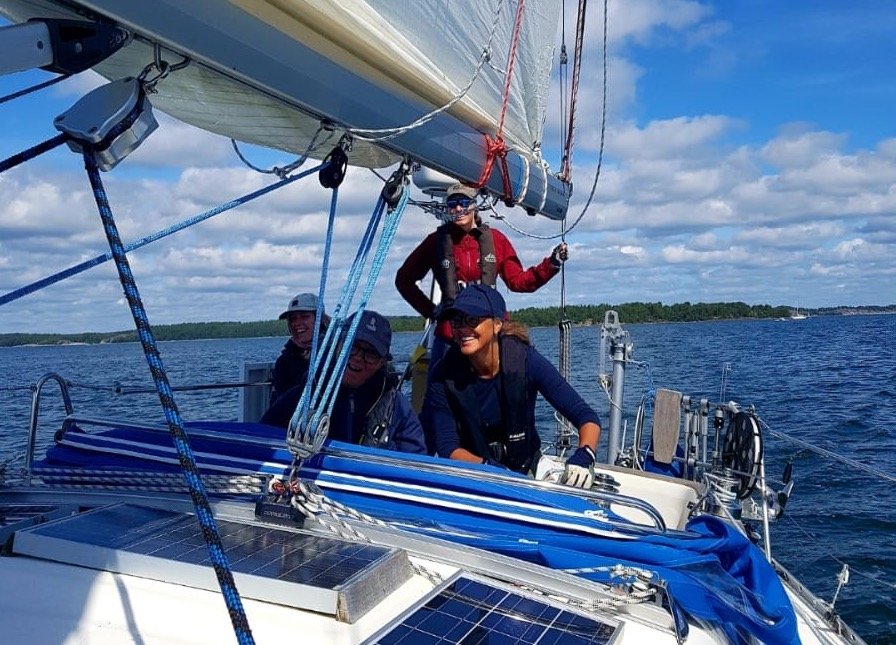 Private instructor on your own boat – sailing boat or motorboat
Try our our most popular course at the moment!!
To bring a private instructor/coach on board your own boat is a supersmart way for you and your family or friends to learn all you need to safely take your boat out on the waters.
A sail instructor or motorboat coach can also be used to rise your experience to the next level. A course focusing on your spinnaker equipment? A rewiew of the boat prior to your first race, or have our supertrimmer on board to help you maximize speed and trim? Do you need help maneuvering and safely drive your motorboat? A special treat in navigate the archipelago?  Or is this your very first boat and you wish to go through the very basics?
We love coaching in a personal way and we have loads of competence in the team!
Our instructors/coaches and their competence
Eva Söderstedt; all practical issues on board, sailing- and motorboatcoach, cruising, navigation
Birgitta Silfverhielm; all practical issues on board, sailingcoach,  spinnaker and code-sails, long distance sailing
Anna Drougge; sailing in all shapes – from beginners to professional racetraining, modern sails, spinnaker, advanced sail- and riggtrim
Per Karlsén; specialist in practical solutions preparing for long distance sailing, and coaching in all kind of sailing and matters. Per loves small boats and minimalistic sailing!
Thomas Bindzau; all kind of sailing – cruising, racing, spinnaker training
Please contact us with details about your boat and your expectations and needs. 
Available from April to October.
Prices:
Sailboat coaching: from SEK750 kr/h including 2 participants.
Additional participant:  SEK100 kr/pp
Motorboat coaching: SEK850 kr/h including 2 participants.
Additional participant:  SEK120 kr/pp
Conditions:
Minimum booking is 4 hours. If your boat is further away then 100 km from where our coach starts we want you to book a full day/8 hours.
Travel cost for the instructor adds to the course fee with SEK 6.50/km
Please send us an e-mail request and we will get back to you asap.