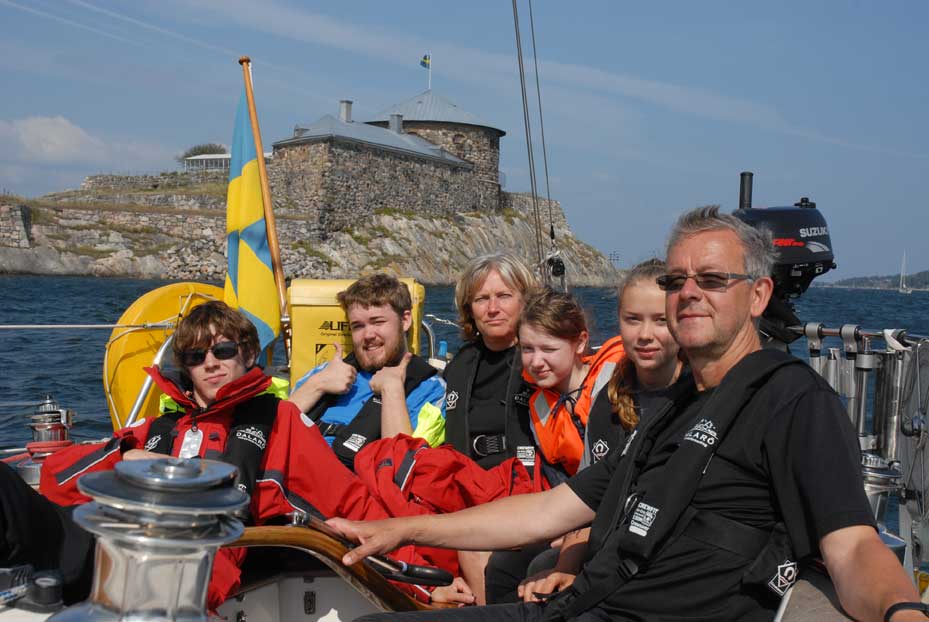 Enjoy a shorter tour that lets you try your hand at sailing, but still have time for other activities, such as kayaking or getting a delicious meal in Dalarö. You will still have enough time to experience the real archipelago of islets and rocks!
We leave the harbour in the morning, or after lunch, and enter immediately into the unique archipelago world made up by islands and islets. Dalarö is right out there! During the four hours of sailing, we take time to enjoy a snack and a cup of steaming fresh coffee. If we are lucky we might spot a sea eagle or a seal. We are back in time for lunch or for dinner, so that you can try out one of Dalarö's nice eateries.
Read more here about what to see and what to do when you visit Dalarö.
About our boats and skippers
When you go sailing with Vind o Vatten you meet skippers who are passionate about what they do, who own the boats they sail and who nourish a close relationship with the Stockholm archipelago. They are well educated and experienced – they have Ship's Officer class VIII and have long experience from archipelago sailing, sail racing and offshore sailing.
You will be sailing a well-equipped and comfortable boat sized about 35-36 feet. The boats are fast and fun to sail, without being too lively or difficult to handle. Since we sail our own boats, we know them well! We provide wind- and waterproof clothing as well as comfortable life vests.
Read more about our boats and skippers.  
Where to find us
Most of our tours start from Dalarö in the southern part of the Stockholm archipelago. You can easily get there by car or by commuter train and bus from the Stockholm city centre. On some occasions we start from Svinninge in the central part of the archipelago.
Read more here about how to get to Dalarö.  
Warmly welcome aboard!

Availability
We sail from May to September, seven days a week. Availability will be visible when you have clicked the button BOOK NOW and chosen your skipper.
Time and place
9:00-13:00 or 13:00-17:00.
The point of departure and arrival is mostly Dalarö, but may also be in Svinninge marina just north of Stockholm.
Price
5 545 SEK for 2 persons
Extra adult: 675 SEK
Extra child 5-15 years: 335 SEK
You always book the entire boat.
Max 6 participants, the number of children may not exceed the number of adults.
Included in the price
Boat and skipper
Loan of life jackets for adults and children
Loan of wind- and waterproof clothing in adult sizes and sailing gloves
Introduction to sailling
Fuel
Coffee and a snack
Not included in the price
Cancellation insurance, 6 % of fee
Don't hesitate to read the FAQ and to
contact us if you have any questions!
Vind o Vatten meets all the requirements for boats and skippers set by the Swedish Transport Agency and other authorities. Our participants and guests are insured while sailing with us and we provide both life jackets and sailing clothes. The skippers sail their own boats and the majority of us are women. Welcome to a unique yacht operator!