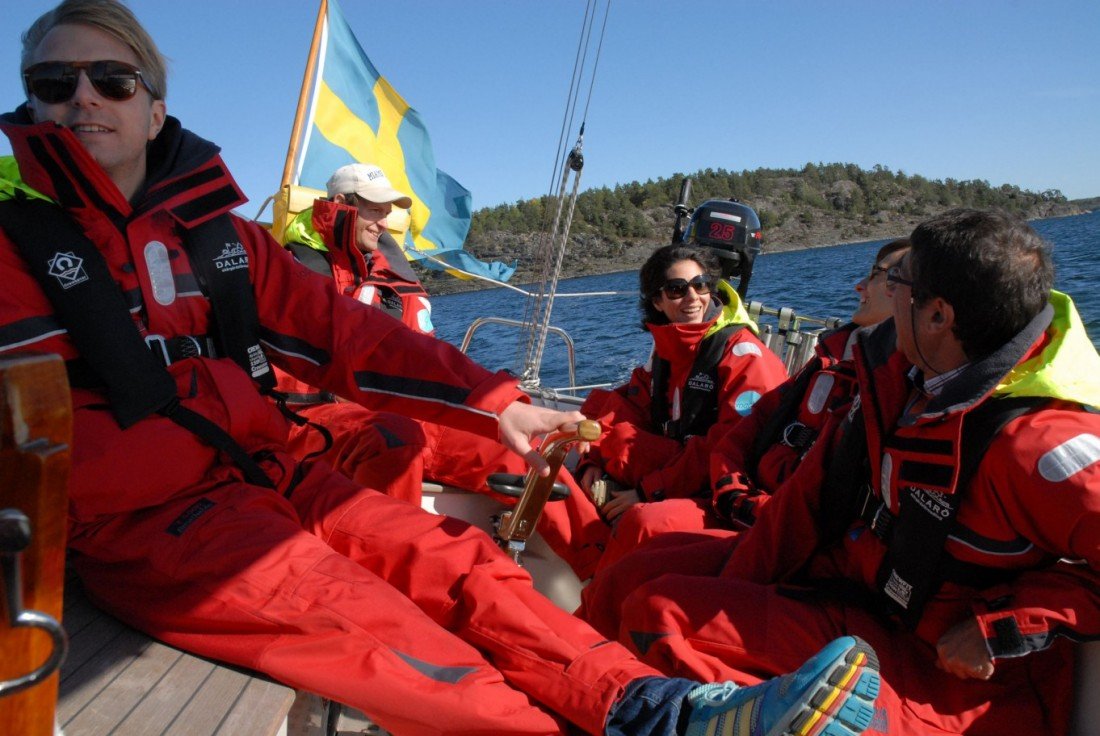 Full day sailing tour
Explore the Stockholm archipelago by sail! Book a boat and skipper for you and your friends and family to experience this unique landscape.

Experience the dream by sail and spend a full day exploring the pearls of the Stockholm archipelago. If you are a beginner, your skipper will introduce you to sailing and if you are more experienced, you are encouraged to partake in the sailing as much as you wish.
On a day tour with one of our 35-36 foot boats we will bring you from Dalarö all the way to the outer islands if the weather permits. We drop anchor in a safe bay to have lunch, swim or take a little rowing trip with the dinghy. For an entire day you will experience what cruising looks like in one of the most beautiful archipelagos in the world.
There are few better ways to fully experience the Stockholm archipelago than by sailboat. Many of the islands are wild and uninhabited by people, houses, cars or the modern world. Get close to nature and its wildlife under the tranquillity of the sails, swim in the waters in a calm bay and learn about sailing and the landscape in a relaxing atmosphere together with your friends and your skipper.
About our boats and skippers
When you go sailing with Vind o Vatten you meet skippers who are passionate about what they do, who own the boats they sail and who nourish a close relationship with the Stockholm archipelago. They are well educated and experienced, each one having a Ship's Officer Class VIII certificate with decades of experience sailing in the archipelago, sail racing and offshore sailing.
You will be sailing a well-equipped and comfortable size boat of 35-36 feet. These boats are fast and fun to sail, without being too lively or difficult to handle. Since we sail our own boats, we know them inside and out and are fully aware of the possibilities and limitations of each vessel. We provide wind- and waterproof clothing on all tours as well as comfortable life vests for each guest.
Read more about our boats and skippers.
Where to find us
Most of our tours start from Dalarö in the southern part of the Stockholm archipelago. You can get there easily by car or by commuter train and bus from the Stockholm city centre. On occasion, we start from Svinninge in the central part of the archipelago which is also easy to get to by public transport or car.
Read more here about how to get to Dalarö and Svinninge.
Welcome aboard!
Availability
We sail from May to September, seven days a week. The availability of our tours will be visible when you click on the button BOOK NOW and choose your skipper.
Don't hesitate to send us a request by email if we don't have availability on your preferred date.
Time and place
9 am – 5 pm
The point of departure and arrival is on Dalarö, but may also be in Svinninge Marina just north of Stockholm.
Price
SEK 7 995 for 2 persons
Extra adult: SEK 925
Extra child 5-15 years: SEK 465
The booking includes the entire boat.
Max 6 participants, the number of children may not exceed the number of adults
Included in the price
Boat and skipper
Life jackets for adults and children
Wind- and waterproof clothing and sailing gloves in adult sizes
Introduction to sailing
Fuel
A Swedish "fika" (Coffee and treats)
Anchorage for lunch
Not included in the price
You have the option of bringing your own lunch or we can order a lunch sallad from Dalarö Bakery at a price of approximately SEK 170/person. You can book this lunch directly with your skipper. 

We suggest you read the FAQ on our homepage and to contact us if you have any questions.
Vind o Vatten meets all the requirements for boats and skippers set by the Swedish Transport Agency and other authorities. Our participants and guests are insured while sailing with us and we provide both life jackets and sailing gear. The majority of the skippers are women who sail their own boats. Welcome to a unique yacht operator!
{
A fantastic experience
We had a great 4 hour sail with Ulrika. She was a fabulous host. She knows the wind, the water, and her boat very well. A fantastic experience overall.
11/06/2023
{
A fantastic day on the water and an absolutely perfect sailing lesson!
Thank you Karin for a fantastic day on your boat! You gave us profound knowledge adjusted to our sailing level so that we were able to sail on our own the next day. It was a pleasure to spend the day together and we highly recommend Vind o Vatten! Thanks a lot!
05/06/2023
{
Fantastic and unforgettable!
We are 3 Swiss people who love to sail and have always wanted to experience the Stockholm archipelago on a sailboat. Karin from Vind o Vatten made this possible. Her sailboat is moored in the port of Dalarö, a sailor's paradise that is a 45-minute drive from Stockholm. Shortly after 10 a.m. we started – well "packed" in Karin's sailing gear – on a 6-hour sailing tour around the island of Nämdö. Thanks to the good wind (it seems like there's almost always wind here!) we were able to moor in a small bay and eat something for lunch. Karin is not only fluent in French and English, she is also an extremely interesting woman. We would highly recommend this sailing tour to anyone wanting to explore the archipelago.
02/06/2023
{
Sail and overnight anchorage
Fantastic sailing with Karin Modigh who was keenly alive to the needs and wishes of both children and adults, and who adapted the sailing with incredible care and thoughtfulness. An unforgettable trip to Huvudskär!
13/08/2022
{
Stellar Outing
Sailing with Birgitta on the Esmeralda 2 was the most memorable time of my 5 days in Stockholm. The boat is tip top and her attitude is totally cool. Birgitta's knowledge of the archipelago is encyclopedic but she totally gets that sailing is about listening to and watching the wind and water so you have to ask questions to get the full benefit of her wisdom! I would do it again in a heartbeat.
15/09/2019
{
An unforgettable trip
We went on a sailing trip with Birgitta on her beautiful boat « Esmeralda 2 ». We went around Dalarö and then the second day we sailed till Utö. It was very easy to sail and take an active role on the boat as Birgitta explained everything very clearly. She also had organized the trip in a way so we can get the most of the Archipelago : fine deli for lunch, dinner at a fancy restaurant and breakfast at a typical bakery with lots of delicious pastries. Birgitta has also been very helpful recommending things we can do while in the Archipelago. It was a unique and unforgettable experience for the whole family. I highly recommend it!
20/08/2019