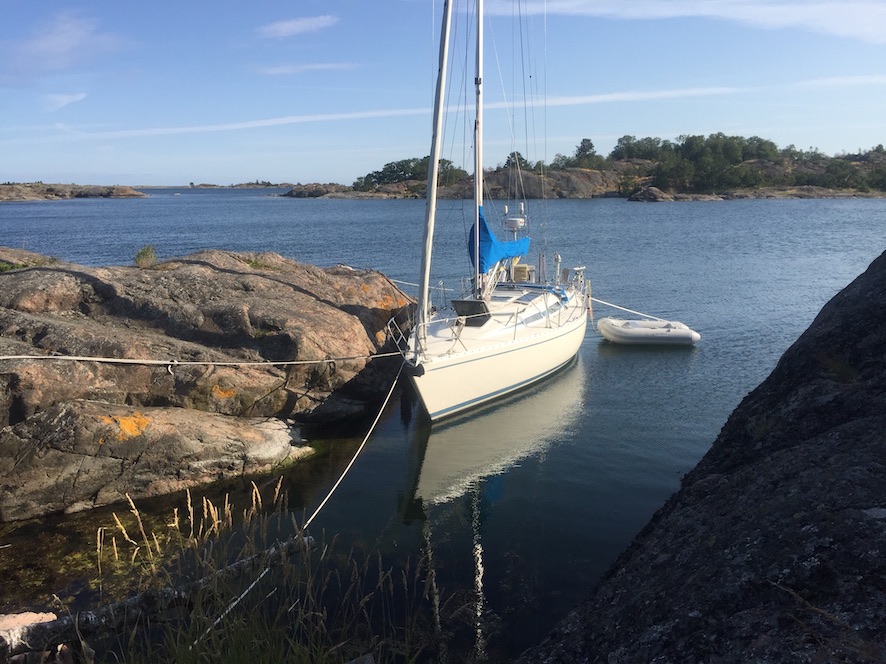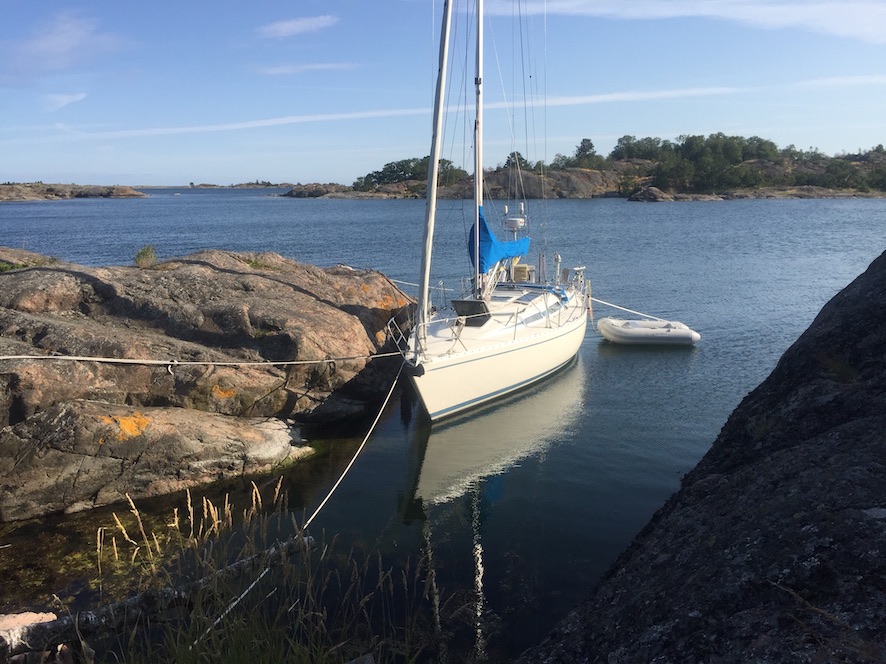 Do you dream of cruising between the skerries and islets of the archipelago, and dropping anchor for the night in a secluded creek? Our proficient skippers welcome you aboard their yachts and under safe guidance they let you discover the gems of the Stockholm archipelago!
Bring along family or friends, let the wind drive you between hundreds of islands, and get lulled to sleep after a day full of impressions.
On the first morning we meet up in the harbour at 9 pm, and you are welcomed aboard to get acquainted with the boat and the skipper. After settling in and going over the security, we are off to set sails. We always plan the day together – a peaceful tour in sheltered waters or a more adventurous sail to test your limits? Whatever you agree upon, your skipper will make sure that you are safe and will provide you with all the knowledge you wish regarding the art of sailing. We may stop for lunch in a sheltered bay, and if you wish you will get time to go for a swim.
We continue sailing towards our anchorage for the night – a sheltered natural harbour. We always adapt our choice of anchorage to the weather and to the requests of our guests. Weather permitting, we set up a barbecue on a cliff and enjoy the view, otherwise we spend a cosy evening in the boat with sailing stories by the glow of the kerosene lamp. You will easily fall sleep after a full day of sailing!
The next day we wake up at 8 am – or earlier if you wish – to get another full day of sailing as we head back towards Dalarö. We can set sails early and drop the anchor for lunch, or we can spend the morning walking and swimming before heading straight back. It's up to you! Whatever you choose, we promise to bring you back to the jetty in Dalarö on time.
Sounds cosy? If you wish to sail for more than two days, just add another, and another and… The more days you book, the further we will bring you into the fascinating world of the archipelago, and the more vivid your experience will be!
About our boats and skippers
When you go sailing with Vind o Vatten you meet skippers who are passionate about what we do, we own the boats we sail and we nourish a close relationship with the Stockholm archipelago. We are well educated and experienced – we have Ship's Officer class VIII and have long experience from archipelago sailing, sail racing and offshore sailing.
You will be sailing a well-equipped and comfortable boat sized about 35-36 feet. The boats are fast and fun to sail, without being too lively or difficult to handle. Since we sail our own boats, we know them well! We provide wind- and waterproof clothing as well as comfortable life vests.
Read more about our boats and skippers/instructors.
Accommodation and food
On a sailing tour with onboard accommodation we take up to four or five participants depending on the boat. Food is planned in consultation with the skipper, purchased in advance and billed at cost price. You bring your own sheets and towels, while blankets and pillows are provided on board.
Where to find us
Most of our tours start from Dalarö in the southern part of the Stockholm archipelago. You can easily get there by car or by commuter train and bus from the Stockholm city centre. On some occasions we start from Svinninge in the central part of the archipelago.
Read more here about how to get to Dalarö.
Warmly welcome aboard!

Availability
We sail from May to September. When you click the button BOOK NOW, you will find availability after having chosen your skipper.
Time and place
Start in Dalarö at 9:00 on the first day.
Finish in Dalarö at 17:00 on the last day.
Start and finish may also be in Svinninge marina just north of Stockholm.
Price
16 395 SEK for 2 persons, 2 days and 1 night
Extra adult: 2 575 SEK
Extra child 5-15 years: 1 285 SEK
Extra day/night for 2 persons: 7 055 SEK
Extra adult, extra day/night: 2 345 SEK
Extra child 5-15 år, extra day/night: 1 175 SEK
Examples of price calculations:
4 adults, 3 days and 2 nights:
8 322 SEK/person
3 adults, 2 days and 1 night:
6 323 SEK/person
2 adults and 2 children, 2 days and 1 night:
4 741 SEK/person
You always book the entire boat.
Max 4 participants, the number of children may not exceed the number of adults.
Included in the price
Boat and skipper
Loan of life jackets for adults and children
Loan of wind- and waterproof clothing in adult sizes and sailing gloves
Blankets and pillows
Introduction to sailling
Fuel
Not included in the price
Food and drinks at cost price

Cancellation insurance, 6 % of fee
Don't hesitate to read the FAQ and to
contact us if you have any questions!
Vind o Vatten meets all the requirements for boats and skippers set by the Swedish Transport Agency and other authorities. Our participants and guests are insured while sailing with us and we provide both life jackets and sailing clothes. The skippers sail their own boats and the majority of us are women. Welcome to a unique yacht operator!