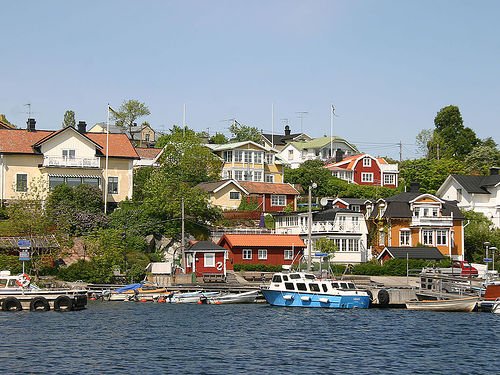 Dalarö is an old maritime village that is simple to reach by car, bus, boat or commuter train from the city centre of Stockholm taking between 40-70 minutes to travel.  It is located in Stockholm's southern archipelago and is famous for its beautiful old villas, for its naval and maritime history and for its many shipwrecks. Today Dalarö is the port of the archipelago with passenger boats to the many islands and is famous for its water activities such as kitesurfing, kayaking and, of course, sailing.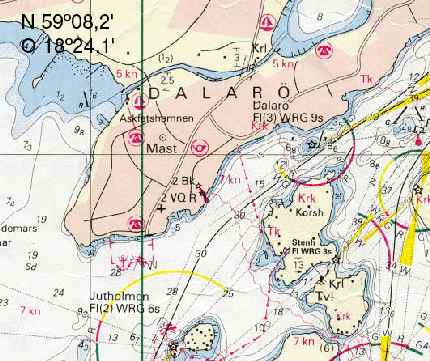 The community of Dalarö is situated on a southwest headland which makes the surrounding waters the natural approach to Stockholm from the south if you are coming by boat. Dalarö is surrounded by thousands of islands in all directions, with small sheltered natural harbours easily accessible for both small and large boats.
You can find the boats of Vind o Vatten in Vadviken harbour close to Smådalarövägen 1.
Accomodations in Dalarö:
Smådalarö gård – A beautiful archipelago hotel

 

– about 5 km from Dalarö village. The hotel has a good kitchen, bar, golf and conference centre. Bus to Dalarö.
Gålö Havsbad

 

– Gålö is situated about 10 km from Dalarö. You can rent a cottage, stay in the hostel or even camp at the camping site. It is a 15 minute drive to Dalarö and you will need a car to get there.
Dalarö hostel Lotsen – This is the smallest hostel in the country, situated in the fishing harbour in Dalarö. Be sure to book well in advance! The hostel is within walking distance to Vadviken harbour.
Horsfjärdens Vandrarhem – A family-run hostel beautifully situated between Dalarö and Muskö. It is a 20 minute drive to Dalarö and you will need a car to get there.
Cottages in Dalarö can be rented from

 

the Tourist office.
AirBnb in Dalarö – you can often find small cottages to let for 1-4 persons.
Birgitta, the owner of Vind o Vatten has a tiny house in Dalarö to let for 1-2 persons. Contact Vind o Vatten for more information.
Anna Drougge, one of the coaches of Vind o Vatten, has a tiny house to let for 1-2 persons, close to Vadviken harbour.  Send an e-mail to anna.drougge@gmail.com for booking and more information.
Activities in Dalarö:
Restaurants at Dalarö: