Sailing is being together
exploring the waters
Sailing is easy and fun
Let us show you the way
Sailing is light nights
and relaxing evenings
Vind o Vatten – Wind and
Water – offers sailing tours for small groups and families
in Stockholm's beautiful
southern archipelago.
Most of our skippers are female who own and sail the boats used on our expeditions with years of experience under their belts.
Embark on a journey with us for a truly unique sailing experience starting in the quaint sailing village of Dalarö, just one hour from Stockholm city centre.
Come sail with us in 2023!
Has it always been a dream to sail the Stockholm archipelago with friends and family? We are now taking reservations for the 2023 sailing season. Why not sail with us?
Our boats and skippers will provide you with a complete sailing experience whether you want to go out for a day sail or if you prefer a longer voyage with overnight anchorage. No previous experience is needed, and you participate in the sailing as much as you wish.  Most likely you will pick up some new skills while exploring the unique world of islets and rocks that make up the Stockholm archipelago.
The sailing season starts in May and ends in October. Check out the availability here on our website and feel free to contact us with any questions or inquiries you may have about our expeditions.
Our skippers Birgitta, Ulrika, Karin and Thomas look forward to meeting you and bringing you aboard their boats to let you work the lines and share with you their love of sailing and the Stockholm archipelago.
Examples of sailing tours
Full day sailing tour in the Stockholm archipelago
Book a boat with skipper for you and your friends or family and spend a full day exploring the Stockholm archipelago under sail! Your skipper will under safe guidance bring you to the pearls of the archipelago. The tour includes a stop in a sheltered bay for lunch.
Price from 2 154 SEK/person, based on a booking of five adults.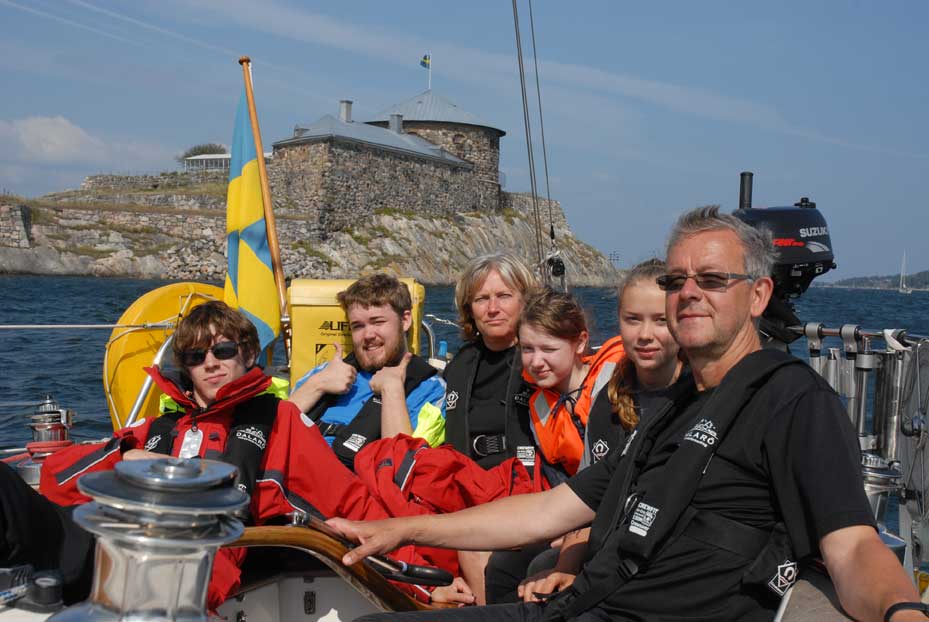 Half day sailing tour in the Stockholm archipelago
A shorter tour that lets you try your hand at sailing, but still have time for other activities, such as kayaking or getting a delicious meal at one of the restaurants in Dalarö. You will still have time to experience the real archipelago of islets and rocks!
Price from 1 514 SEK/person, based on a booking of five adults.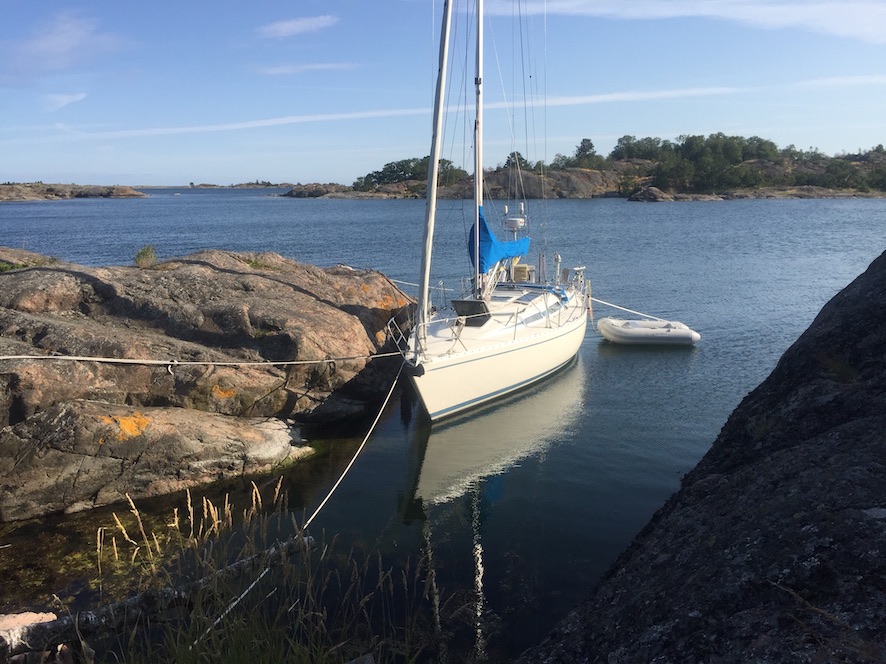 Sail and overnight anchorage
Do you dream of cruising between the skerries and islets of the archipelago, and dropping anchor for the night in a secluded creek? Our proficient skippers welcome you aboard their yachts and let you discover the gems of the Stockholm archipelago! Bring along family or friends and sail for two, three or as many days as you wish.
Price from 5 386 SEK/person, based on a booking of four adults.
{
Sail and overnight anchorage
Fantastic sailing with Karin Modigh who was keenly alive to the needs and wishes of both children and adults, and who adapted the sailing with incredible care and thoughtfulness. An unforgettable trip to Huvudskär!
13/08/2022
{
Stellar Outing
Sailing with Birgitta on the Esmeralda 2 was the most memorable time of my 5 days in Stockholm. The boat is tip top and her attitude is totally cool. Birgitta's knowledge of the archipelago is encyclopedic but she totally gets that sailing is about listening to and watching the wind and water so you have to ask questions to get the full benefit of her wisdom! I would do it again in a heartbeat.
15/09/2019
{
An unforgettable trip
We went on a sailing trip with Birgitta on her beautiful boat « Esmeralda 2 ». We went around Dalarö and then the second day we sailed till Utö. It was very easy to sail and take an active role on the boat as Birgitta explained everything very clearly. She also had organized the trip in a way so we can get the most of the Archipelago : fine deli for lunch, dinner at a fancy restaurant and breakfast at a typical bakery with lots of delicious pastries. Birgitta has also been very helpful recommending things we can do while in the Archipelago. It was a unique and unforgettable experience for the whole family. I highly recommend it!
20/08/2019